[Company News] Celltrion Takes Trio Of Global Generics & Biosimilars Awards 2021
등록일 2021-11-11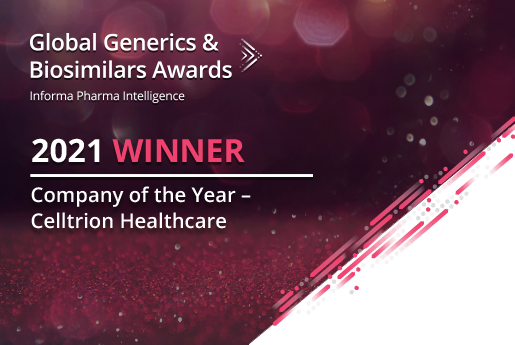 Celltrion Healthcare is the winner of the 8th Global Generics & Biosimilars Awards 2021
Celltrion Healthcare is pleased to announce that the company has received a trio at the 'Global Generics & Biosimilars Awards 2021' held in Milan, Italy on November 10, 2021.
The three categories are 'Global Company of the Year', 'Biosimilar Initiative of the Year' and 'Value Added Medicine initiative of the Year.'
The awards are renowned for rewarding 'best practice' in the generics, biosimilars and value-added medicine industries, while at the same time encouraging improvements in every aspect of the way business is conducted.
We are truly grateful for the prestigious recognition for our achievements, and we remain committed to continuing innovative research of developing biosimilars and novel therapeutics.