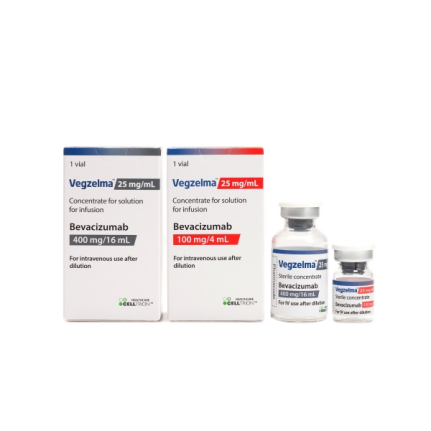 Product Name :

Vegzelma®

INN :

bevacizumab

Indications :

Metastatic carcinoma of the colon or rectum, Metastatic breast cancer, Non-small cell lung cancer, Advanced and/or metastatic renal cell cancer, Epithelial ovarian/fallopian tube and primary peritoneal cancer, Cervical cancer (*based on Vegzelma-SmPC)
Protein Type :

Monoclonal antibody (mAb)

Mechanism of Action :

Bevacizumab binds to VEGF, the key driver of vasculogenesis and angiogenesis, and thereby inhibits the binding of VEGF to its receptors, Flt-1 (VEGFR-1) and KDR (VEGFR-2), on the surface of endothelial cells.

Drug Approval Status :

USA, Europe, Japan, Korea, etc.
This product description is for medical and educational purposes only.
They are not intended to promote PR or sales campaigns.
For more details, please consult a doctor or a medical specialist. This site is intended for all over the world.